RAILWAYS WITH ZIG ZAGS WORLDWIDE
ASIA
There are many websites devoted to Indian Railways, these are but two:
Indian Railways Fan Club
Indian Steam Railway Society
Mike's Railway History - Modern Transport in India - 1935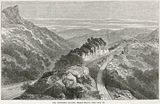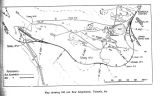 India - Bhore Ghat, near Mumbai (Bombay) on the Great Indian Peninsula Railway's main line from Mumbai to Pune (Poona). There was a reversing station near Khandala and Lonavala, half a zig zag, it used a grade of 1 in 37. It would have been known to John Whitton as the railway's opening was reported in detail in the Sydney Morning Herald in July 1863. This was superseded by tunnels and deviations 1928. It is possible that John Whitton may have seen it as he returned from a visit to England via Bombay in 1868. Quote from a web page: "The century-old but now-disused reversing station of Bhore Ghat near Khandala, a heritage structure where the pioneering broad-gauge Great Indian Peninsula Railway from Bombay to Poona once zig-zagged to gain height, was in summer 2002 being demolished to make way for a highway.
Lots of pictures including some during construction.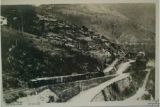 India - Darjeeling Himalayan Railway, Northern India. Opened in 1881. 2' 0" gauge, 88km (55 miles) long, the railway rises from 533 ft at Sukna to 7407 at Ghum, in only 40 miles. The ruling grade is variously quoted at 1 in 16 or or 1 in 18. The sharpest curve is 59ft radius. There are five zig-zags and four loops, two of them double spirals.
One of the only two railway sites listed (in 1999) under UNESCO's World Heritage Sites. The citation says: "The Darjeeling Himalayan Railway is the first, and still the most outstanding, example of a hill passenger railway. Opened in 1881, it applied bold, ingenious engineering solutions to the problem of establishing an effective rail link across a mountainous terrain of great beauty. It is still fully operational and retains most of its original features."
The other UNESCO listed railway is the Semmering-Railway in Austria.

There are a number of English Language sites for the Darjeeling Railway:
The Darjeeling Toy Train - Zubin Medora's Site
Darjeeling Himalayan Railway Society - UK
Mike's Railway History - Darjeeling Himalayan Railway Information as it was in the 1930s.
Mike's Railway History - Hill Railways of India Information on hill railways in what is now India, Pakistan, and Burma as in 1935.

Pakistan, Khyber Pass Railway, built 1920-5 by the British to connect India with Afghanistan. It starts from Peshawar in the North West Frontier Province. A remarkable construction, particularly the section through the Hindu Kush mountains between Jamrud (1500ft) and Landi Kotal (3500ft) a distance of 20.5 miles. It has a ruling gradient of three percent (1 in 33) between Jamrud and Landi Kotal, 3494 feet above sea level, a rise of nearly 2000 feet in twenty one miles. The track then drops 872 feet in four and a half miles to Landi Kotal, a gradient of 1 in 25. At one point, the track climbs 130 meters in little more than a kilometer (425 feet in 0.7 miles) by means of the heart stopping Chungai Spur. This is a W-shaped section of track with two cliff-hanging reversing stations, at which the train wheezes desperately before shuddering to a stop and hacking away from the brink.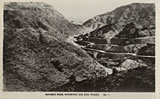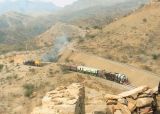 West of Landi Kotal the railway descends to Landi Khana 2,600 feet above sea level, a drop of 900 feet in only 5.25 miles. There are another two reversing stations on this part. It was completed in 1926, but was closed in 1932 at the request of the Afghan government.
Features of the whole line include four reversing stations, thirty four tunnels, ninety two bridges and culverts, six ordinary crossing and four locomotive watering stations.
Wikipedia in English
Wikipedia in German. It gives more information about the line layout. Translation of this page says 2 switchbacks before Shahgai. For strategic reasons the line is maintained.
Khyber Pass Railway
Khyber Steam Engine Safari
Woman drove first train in Khyber Agency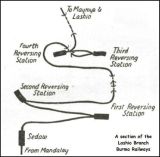 Burma (Myanmar). Two metre gauge railway lines in Burma contained zig zags: the Mandalay - Maymyo - Lashio line and the Thazi - Taunggyi line near Kalaw, both metre gauge, both built in the 1890s.
The Mandalay - Maymyo - Lashio - line between Sedaw and Maymyo had three zig zags up the face of a precipitous hill, with four reversing stations and gradients of 1 in 25 between.
The Thazi - Taunggyi line, also known as the Southern Shan States line had four reversing stations and a spiral, the gradient was again 1 in 25.
Mike's Railway History - Railways of Burma
China, Beijing-Kalgan Railway. Built 1901-1909 in standard gauge, it crosses the Nankow Pass, which the Great Wall of China also crosses. The line climbed 1641 feet in under 12 miles. The gradient was mostly 1 in 40, with occasional sections of 1 in 30. The line included 4 tunnels and a reversing station at Qinglongqiao - half a zig zag. The line was rebuilt, eliminating "the most demanding parts of the line in operational terms, and hence the most interesting aesthetically and technically". However the reversing station at Qinglongqiao remains, built 1905-09. Trains use a locomotive at each end to negotiate it. It is in the line between Beijing and Badaling, to serve the Great Wall of China.
Qinglongqiao Reversing Station
Mike's Railway History - Railways of China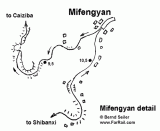 China, Jiayang Power Company Railway, Shibangxi, Sichuan Province. A picturesque isolated narrow gauge (2'6" - 762mm) railway running between Huanngchingjing and Shixi, serving several local coal mines. There is a reversing station at Mifung (Mifeng), together with a tunnel and a scenic curve.
John Raby's diary
China Narrow Gauge Paradise
Jiayang Coal Railway (Sichuan)
Steam South of Beijing, December 2001 Part 1
Shibanxi in Transition 2006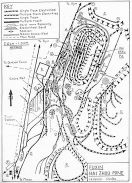 China, Hai Zhou Coal Mine, Fuxin, Liaoning Province, north-eastern China, Open Cast mine, 42' n 121'30", about 150km west of Shenyang the capital, 120 km north of Jinzhou, over 400km NE Beijing. Open cast mine about 4km x 2km x 250m deep. From the layout there would appear to be 7-8 reversing stations / zig zags. Electric locomotives are used to carry most of the coal from the pit, steam locomotives may be used for track maintenance. Levels are triple tracked.
Steam in Northern China, March 2002
Private lines of Fuxin mining bureau


Taiwan, Alishan Forest Railway, in South Taiwan, built by the Japanese 1899-1914, in 2'6" (762mm) gauge, total length 71.4km, with a gradient of 6.25% (1 in 16). It rivals the Darjeeling Railway and one of the TransAndean lines in gradient steepness. It is now mainly a tourist railway. In earlier times Shay Locomotives made by Lima in USA were used, now the line is diesel hauled, there may be a few Shay hauled specials. During the 4 hour journey the train climbs from 30 - 2216m above sea level. Along the line there are two zig-zags (4 switchbacks), 49 tunnels and 77 bridges and a triple loop around a mountain where the line climbs 200m in 5km. The line was begun at Chia-I (Chiai)(Chiayi) just north of the Tropic of Cancer, reached to Erwanping by 1912, and Alishan by 1914.
Taiwan Information
Alishan Forest Railway Journey Description
Shay Locomotives on the Alishan Forest Railway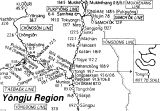 South Korea, Taebaek - Donghae Line - gauge 4' 8.5" (1435mm), length about 50km.( There is a problem in English with Korean place names as there may be several ways of spelling them.)
In the province of Gangwon (Kangwon), in the North East of the country there is a range of mountains not far from the coast. A railway line runs from Gangneung (Kangnung) southward connecting with the ports of Mukhu and Donghae (Tonghae). The line forks slightly north of Donghae heading inland through the Taebaek (Taebeck) mountains to the mining town of Taebaek before continuing via a couple of spirals to Seoul.
From Donghae the line climbs through a a deep steep valley. About about 40km from Donghae (10km from Taebaek) there is a zig zag (two switchbacks) with approximately 500m between reversing stations. The line was built in 1963. The line was electrified in 1975 although some trains may be still diesel hauled.
Yeongdong Line.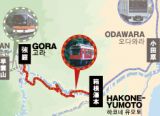 Japan (South) - Hakone Tozan Line The line was built 1917-1930. The railroad can climb 1m for every 12.5m horizontally, a maximum slope of 8%. The line crosses Fuji-Hakone-Izu National Park, it was carefully designed to limit the impact on scenery. Due to the difficult terrain, the line has three switchbacks. See diagram right.
Hakaone Tozan Mountain Railway

Japan (South) - Hisatsu Line on Kyushu. At Okoba it has a zig zag that leads into a spiral, and at Masaki it has a zig zag. See Wikipedia diagram.

Japan - Tateyama Sabo Erosion Control Works Service Train The line transports materials and workers for construction/conservation work; not open to the public. Built 1926-31, 200mm Gauge. Because of its historical significance, the line is registered as a Registered Monument by the Law for the Protection of Cultural Properties. Originally part of the line was a rack railway. Following decay during WWII that section was replaced by a cable car. In 1965 that section was replaced by a railway with 18 zig zags. During 1998-2007 some zig zags were replaced by tunnels. The line has one of the largest number of railway zig zags in the world.
Lebanon - Lebanese State Railway Company. After 1891 a French-Belgian group built the Beirut - Damascus line, opened in 1895. Because of the steep gradient behind Beirut the Abt system was used for part of the line. There were two reversing stations at Chouit-Araye and Aley. The highest level reached was 5059 feet, often covered with snow. Gauge was 1050mm.
More information on Middle Eastern Railways
Not a Zig Zag but sometimes described a switchback or zigzag(s) in the sense of horseshoe/hairpin bends:
Matheran Hill Railway, Maharashtra, India Built 1901-07 between Neral & Matheran, its 2'0" (610cm)gauge easily included several switchbacks/loopbacks. Ruling gradient of 1 in 20.
Rob Dichinson's page on Matheran Hill Railway
Matheran Light Railway
Matheran Hill Railway

Updated 10 December 2011