RAILWAYS WITH ZIG ZAGS WORLDWIDE
UNITED STATES
There were zigzags on logging and mineral roads in the United States, and a temporary one in Pennsylvania on a mainline with a 1 in 10 grade (!!!) in the 1840s.
West Virginia - Cass Scenic Railroad, in the Cass Scenic Railroad State Park, has two switchbacks, and is operated by Shay locomotives.
From Zig Zag Railway's magazine "Switchback", December 1998, by Terry Boardman.
The last Shay locomotive ever built and the largest still in existence, at 162 tons, works here. The summit is at Bald Knob, 4842 feet, a climb of 2390 feet from Cass. Along the way the trains negotiate a zig zag up the valley of Leatherbark Creek and climb at a rate of 11 feet per 100 feet of track. Passenger cars are old logging flats refurbished and fitted with seats. Motive power is one and sometimes two Shay locomotives per train with a chance of a Heisler which in 1998 was awaiting restoration together with a collection of conventional steam and diesel locomotives.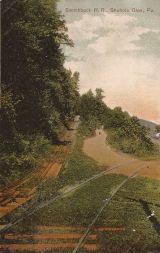 Pennsylvania - Shohola Glen Switchback Railroad, Pike County. Built in 1886 this was 1.2 miles long, water powered and the forerunner of the modern roller coaster. It was built in 4.3" gauge with coaches salvaged from the Pennsylvania Coal Company Gravity Railroad. The car lift was powered by water from a large wheel in the 1790 sawmill. See right.



Pennsylvania - Switchback Gravity Railroad, built in 1827, the second railroad in the Unites States, the first coal railroad, the first railroad in Pennsylvania and the first commercially successful railroad. Under restoration. It had the highest inclined plane for its time, and it offered the first dining car service. It is generally credited with being the prototype for the roller coaster in America.
Mauch Chunk Switchback Railway

Pennsylvania - Scranton, Montage Mountain Road, No dates given, and explanation confusing but there was a track diagram. Industrial switchback, still in use.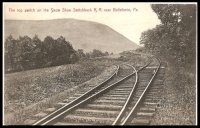 Pennsylvania - Bellefonte_and_Snowshoe_Railroad Begun in 1859, it was abandoned in 1959. Bellefonte had iron furnaces, needing coal. Near Gum Stump the railroad climbed a mountain by a series of switchbacks. From the plan there were two.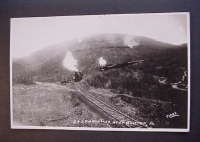 Pennsylvania - Buffalo and Susquehanna Railroad was begun in 1885, There were 4 switchbacks between Galeton and Wharton. In 1932 it was bought by the Buffalo and Ohio Railroad. Over many years it changed hands and declined finally disappeared c. 1970.
Washington State - Northern Pacific Railroad, Cascade Mountains, built a switchback in 1884 to get over the Stampede Pass. In 1888 it was superceded by a tunnel. The Northern Pacific also used switchbacks on their main line where they crossed Bozeman Pass between Livingston and Bozeman, and Mullan Pass west of Helena. These switchbacks were all eventually replaced with tunnels although they were left in place for a few years and used sporadically when tunnel problems arose. They also used switchbacks on their Wallace branch to cross Lookout Pass between Missoula, Montana and Wallace Idaho. This switchback was never replaced with a tunnel and continued in use until the line was abandoned in the 1980's.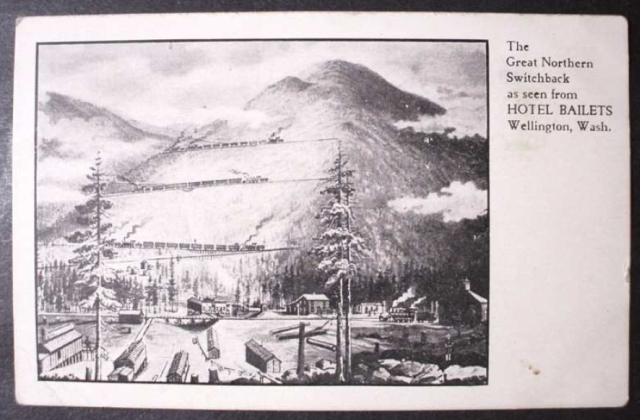 Washington State - Great Northern Railroad, Cascade Mountains, east of Seattle. It was built in 1892 with eight switchbacks to get over the Stephens Pass. They were superseded by a 2.5 mile tunnel in 1900, and by a nearly 8 mile tunnel in 1929.

Washington State - Milwaukee Railroad, Cascade Mountains used a switchback to get over Snoqualmie pass.

Idaho - Gilmore, Pittsburgh and Pacific Railroad had both two switchbacks and a tunnel on the section of their line between Armstead, Montana and Leadore, to get over the Bannock Pass. Their switchbacks also remained in use until the line was abandoned because the tunnel never relieved enough of the grade.
Gilmore & Pittsburgh Railroad

California - Roaring Camp and Big Trees Narrow Gauge Railroad, Felton. South of San Francisco, has a single switchback.
From Zig Zag Railway's magazine "Switchback", December 1998, by Terry Boardman.
36" Railway built to convey tourists from a recreated logging town, complete with a steam powered saw mill, through a redwood forest reserve containing some of the tallest trees in the USA, up steep grades and around tight corners to the top of Bear Mountain. Originally the line ascended a spiral with two tall trestle bridges but these were badly damaged in a fire lit by a saboteur a few years ago and the climb is now made by a switchback. Carriages are open. Trains are hauled by either No. 1 Dixiana, a two truck Shay, No 3, Tuolumne, a two truck Heisler, or No. 7 Sonora a newly (1998) retored three truck Shay.
Roaring Camp Forest Train Map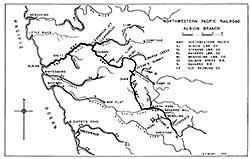 California - Albion Mills Railroad - North of San Francisco, on the Mendicino coast near Albion. There were two switchbacks.
California - McCloud River Railroad, Signal Butte Switchback The railroad was built 1896-1900, with two switch backs, on an advertised 4% grade. One of the switchbacks (at big springs) has been eliminated, that at Signal Butte remains. The Railroad has always run engine first up the hill, and caboose first down hill.
Colorado - Atchison Topeka & Santa Fe Railroad, Trinidad. Built in 1878 a switchback was used to carry the line over the Raton Mountains into New Mexico, later superseded by a tunnel. "By it the cars left what is now the direct line, and were carried over a steep incline track, running diagonally up the hill; thence, reversing their direction, they shot up another incline; then reversing again, they climbed to the summit, thus zigzagging up the steep they could not directly scale. Even by this indirect route, the enormous grade of 316.8 feet per mile was attained."
Colorado, Silverton Railroad. Built in narrow gauge 1887-89 to Ironton via Red Mountain Town, one of three railroads built to access the mineral resources in the mines above Silverton. Originally on the descent from Guston Mine to Ironton a switchback had been used. As there was no space to run the locomotive round the train for the lower part of the descent an unusual solution was found. A 50 foot turntable was installed on the reversing station and covered with a large wooden structure to keep the snow out. Its use was as follows: the train would stop above the turntable, the locomotive was detached, run on to the turntable and exited onto the other leg. then the train was run through the turntable and stopped on the tail of the switchback. The locomotive was then re-attached to the train and went on its way down hill. Interestingly the train could be lowered by gravity from either direction. The railroad was closed in 1922.

Colorado Central Railroad. The section between Black Hawk and Central in Clear Creek Canyon was built in 1878, in narrow gauge, using a switchback. The distance between the two towns is 1 mile but the track is 4 miles. See also Georgetown Loop Railroad.

Colorado - Denver & Rio Grande Railroad. The D&RG took over (1882)the Utah & Pleasant Valley Railroad which had used a double switchback to go from Clear Creek(later called Tucker) into Pleasant Valley in 1879. The D&RG built an easier route.
Utah - Union Pacific Mine at Scofield was served by a switchback spur from the Scofield yard.

Arizona - Sante Fe Railroad. In 1904 ten switchbacks were used to climb 2000 feet on a grade of 1 in 25. It was abandoned by 1926 as the mines it serviced were unprofitable.

Oregon - Mount Hood Railroad Runs between Hood River & Parkdale. Contains one of only 5 remaining switchbacks in USA.
MEXICO
Copper Canyon Railroad, Chihuahua-Pacifico ("Chepe"). Also called 'Chihuahua al Pacifico'. Descriptions are confusing and it now appears that the switchbacks are tight loops. Standard gauge, but still a spectacular journey. Runs between Los Mochis or El Fuerte on the west coast and Chihuahua, Cuauhtemoc or Creel to the east of the Sierra Madre, climbing from sealevel to 8000 feet. Los Mochis to Chihuahua is 400 miles, journey time about 16 hours, Creel about 8 hours from Los Mochis and Chihuahua. There are three switchbacks near Temoris station (Lat. 27.267 Long. -108.250) on the western side of the Sierra Madre, at one point 3 levels of track can be seen. The line includes 36 bridges and 87 tunnels; one of which turns through 180 degrees. Construction started c. 1900, but because of the Mexican Revolution in 1910 and the difficult terrain in the Sierra Madre mountains the line was not completed until 1961.
Copper Canyon Raiload Route map
Copper Canyon Railroad Adventure
Updated 24 September 2013