RAILWAYS WITH ZIG ZAGS WORLDWIDE
SOUTH AMERICA

There are several railways in the Andes which have or had zig zags, and several websites about them. General ones include:
Bo Justusson's Andes page
Mike Irlam's Railway Pages
Stephen Phillips Track Diagrams
Columbia - Ferrocarril de Girardot (in Spanish). Built 1881 - 1908. 50km. Gauge 3'0" with a switchback at La Esperanza. All trains running through La Esperanza ran backwards. The site does not mention a zig-zag.
Link in Spanish to Columbian Railways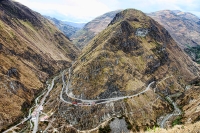 Equador - Guayaquil - Quito Railway. A Virginian, Archer Harman built and ran the 3'6" Guayaquil and Quito Railway Company between 1897 and 1911, completing the line in 1908. The journey offered spectacular views, as the train climbed to 3238m (10,623ft) in 80km (50 miles), reaching its highest point at Urbina (3609m/11,841ft). There were particularly scenic sections on the Alausi - Duran and Ibarra - San Lorenzo sections. For railway engineering enthusiasts the Alausi loop and the Devil's Nose (El Nariz del Diablo) double switchback (one zigzag?) are of particular interest, gradient 1 in 18, descent 800m/1280feet. The section between Riobamba and Alausi is in use now as a tourist railway. Until relatively recently this line was still occasionally steam hauled.
Guayaquil - Quito Railway

Peru - Cuzco - Aguas Calientes (Machu Picchu) The line climbs steeply out of Cuzco through a series of zig zags (six switchbacks) which are known locally as 'El Zig-Zag'. Further on 48 km north of Cuzco there is another zig zag (double switchback). The gauge is 3'0" (900mm) and the distance 110km.
Stephen Phillips Track diagram, Cuzco-Macchu Picchu.
Peru - Central Railway (Ferrocarril Central del Peru) built by Henry Meiggs (1811-1877). Started in 1870, after the completion of Lithgow Zig Zag, it was only completed in 1893. In the 138 mile section between Callao (Nr. Lima) and La Oroya there were 61 bridges, 66 tunnels, 21 V-switches. It uses grades of 1 in 30 and 1 in 25 (4%), and is standard gauge.
Stephen Phillips Track diagram, Lima - San Bartolomeo
Stephen Phillips Track diagram, San Bartolomeo - La Oroya
Brief History of Peruvian Railroads Interesting but no information on zig-zags / switchbacks.
Lima - La Oroya Journey Description
Peru - Ferrocarril de Centromin (former Cerro de Pasco Railway). This railway was an extension of the Central Railway of Peru from La Oroya to Cerro de Pasco - 83 miles. It has a double switchback - a zig-zag c. 12km north of La Aroya.
According to Ferrocaril Central Andino Trip Details there are 69 tunnels, 58 bridges and 6 zigzags. In 1999 this line, and the Callao - La Oroya line together with the La Oroya - Huancayo line was let for 30 years to a private consortium, Railroad Development Corporation,
Railroad Development Corporation
operating as:
Ferrocarril Central Andino
Stephen Phillips Track diagram, La Oroya - Cerro de Pasco
Stephen Phillips Track diagram, La Oroya - Huancayo

Trans Andean Railway - Ran between Buenos Aires, Argentina and Valparaiso, Chile. The section Buenos Aires - Mendoza (650 miles)(completed 1887) in the eastern foothills of the Andes was in 5'6" gauge, the section Mendoza - Los Andes (154 miles) over the Andes was in metre gauge, and the Los Andes - Valparaiso (82 miles)(completed in the 1890s) section in 5'6" gauge. Mendoza is at 2,470 ft, the Cumbre Tunnel at 10,450 ft (the Cumbre Pass at 12,800 ft) and Los Andes at 2,669 ft. The line was completed in 1910. There was a "Meiggs V-Switch" on the metre gauge section, much of which was a rack railway. The metre gauge section on the Argentine side is no longer in use.
History of the Trans Andean Railroad
Revisiting the Transandine Railway
Argentina - Tren a Las Nubes. An all day journey of over 200 km, from Salta to La Polvarilla. This is a remarkable work of railway engineering, with bridges, tunnels, 2 zig zags, 2 spirals and viaducts. It climbs from 1,187 m to 4,220 m into the Andes. The Polvarillo Viaduct was opened in 1932 after 11 years of hard work building the line between Argentina and Chile. The whole line opened in 1948. The Tren a Las Nubes is the first part of the line. For more information (in English) see their informative website, which includes a map.
Tren a Las Nubes - with route diagram.
Chile - Antofagasta and Iquique. There were zigzags on one or more branches of the nitrate railways out of Antofagasta and Iquique into the desert ranges of the Andes in northern Chile. There were 3 zigzags above Pisagua 125 miles north of Iquique. Mostly gauge 1435mm (4' 8.5").

Iquique (port)(c.20'S) is surrounded by hills. There was a switchback about 4 miles away.

South of Iquique and north of Antofasta (port)(c.23'30"S) is the Tocopilla al Toco railroad, 3'6" gauge, length 17 miles, 3000 ft drop, between Barriles and the port of Tocopilla (c.22'S), gradient 4%(1 in 25) with a switchback at Reverso near Barriles.
Northern Chile Railroad Adventure 2001

From Pisagua (port)(c.19'30"S), 125 miles north of Iquique ran a line inland to Zapiga (94 miles) via Hospicio. On the downhill side of Hospicio were 3 switchbacks. The line was closed in 1964.
Not a Zig Zag but sometimes described as a switchback or zigzag(s) in the sense of horseshoe/hairpin bends: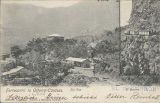 Venezuela - La Guiara and Caracas Railway Built 1881-1883, in 3ft gauge, it climbed 3000 feet in 23 miles. It was electrified in 1920s. The description includes zig-zags but the map shows them to be horseshoe switchbacks. Storms damaged the line in 1951; it was closed and never re-opened.

Updated 26 September 2013